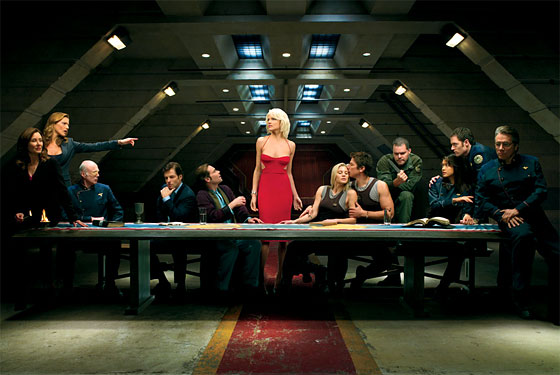 Buy Battlestar Galactica: The Plan
on Amazon.
I stumbled on a couple of reminders that the Battlestar Galactica movie, "The Plan" is out now. The first was the big ol' email that I got from Universal Studios Home Entertainment that said "Hey, The Plan's out. Buy it." and the other was this month's Maxim magazine. It features a photoshoot with Tricia Helfer and Grace Park and being Maxim, it's looong on cheesecake (and tongue in cheek humor) and short on interview, but if you must have everything BSG – then… I'm sure you'll have fun getting it signed at the next con. The 10-second article does have Park hinting about just how Released-to-DVD differs from basic cable (she uses the term "T, C, & A", if that tells you anything) and Helfer mentioning hosting a kitten adoption (awww… no really, kittens are cute).
To read Tabz's review of "The Plan" click here.
And – if you've never heard of the magazine, there is (of course) a Wikipedia article (hint: they're the ones that printed a review of a Black Crowes album without actually listening to it. Some people were amazed at their accuracy. They've also had Eliza Dushku on the cover twice.)
(Photo: SyFy)