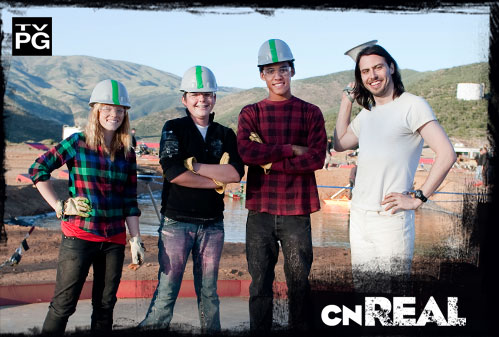 Want to build and destroy at home? Play Blast Works: Build, Trade, Destroy
for Wii!
Watch Destroy Build Destroy tomorrow (June 20th) on Cartoon Network!

Ok. We've all seen Robot Wars and it's variants – the shows where teams build, well, robots and try to inflict enough damage to another teams creations to win a competition. And then we've seen Junkyard Wars, where people take stuff that looks like it was left over from a massive Robot Wars competition, build a solution to solve a problem and win a prize. Yeah. Great. But wait – Coming to Cartoon Network, branded under a "CN Real" tag, is combining the best bits of both – and adding explosives.
And judging from the promo clip, rocket launchers.
"Destroy Build Destroy" does just what the name implies, the show wrecks vehicles, machinery, what-have-you and then the two teams of teenagers (yes – teenagers …with rocket launchers…) go to work. With help/cheerleading from the host, Andrew W.K., two teams build working gadgets from the wreckage and then… destroy them. According to tv.com, the premier pits Skaters against the Math Club, who are tasked to "build flying machines that attack each other".
You know, I used to be amazed – and maybe a little jealous – of the really cool toys that weren't around when I was little – like Mindstorm Legos, or even the pirate sets. Now they're giving teens freakin' rocket launchers! I so could have used one of those.