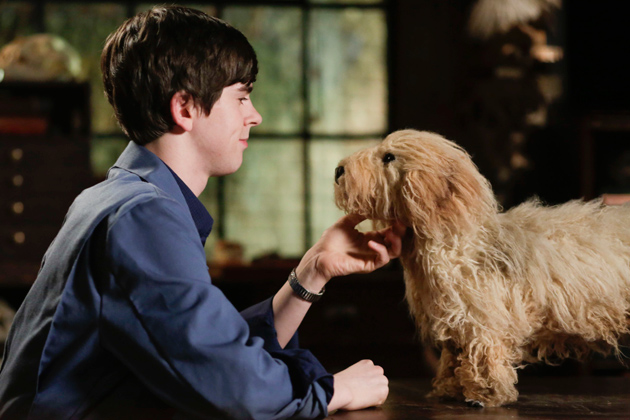 Yep, that dog is stuffed.
In episode 8 of Bates Motel titled A Boy and his Dog, Norman learns taxidermy from Emma's Dad, Will. Norma asks Sheriff Romero for a favor and gets shut down. Bradley confronts Norman about telling people they slept together, Norman gets upset and leaves school. The principal and Miss Watson tell Norma they would like Norman to visit a therapist. After a couple strange encounters with Abernathe, Norma decides to follow him and he confronts her about taking something from him and Norma kicks him out of room #9. Dylan and Remo go on a road trip and bond over a bar fight. And Deputy Shelby makes his final appearance. Join Em and Sue as they recap this latest episode of Bates Motel.
Where is the What We've Been Watching Segment? You may ask…I made a decision to release it as it's own thing to cut time down. Look for it… it's on it's close behind.
Also– the last two podcast episodes of the season have been recorded and I'm going to do some mad editing to get them all out quickly so we can have them all out before Bates Motel Season 2 starts on March 3rd (and still have time to record and release one more episode after watching the movie Psycho).  So, expect to be bombarded over the next week or so while Yes Mother seems to take over Quadruple Z.
Em
Podcast: Play in new window | Download