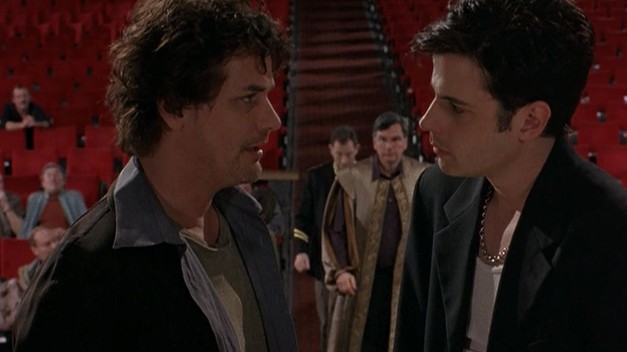 At long last here is the fifth episode of the Ghostlight Podcast!  Listen in with Paul, Darcy, Ben, and Amy as we discuss Season One, Episode Five of "Slings & Arrows" entitled "A Mirror Up to Nature."
Geoffrey is now on the job as director of the New Burbage production of Hamlet.  But can he cope with some of the more unpredictable members of his cast? Or even some of the less predictable elements of his behind-the-scenes management?  Meanwhile, Richard and Holly each take actions which are either misguided talk and inappropriate confrontation or active sabotage and murder???
Hear us discuss previews vs. dress rehearsals, acting methods, and have a wrap-up of the drugs vs crazy debate.
So whether you choose to munch on Cheezies, nachos or 'za, curl up and listen to this newest episode.
Be sure to join in the discussion:
Follow us on Twitter: twitter.com/ghostlightpc
And you can send feedback for any episode, as Paul is the only one who will check these:
theghostlightpocast@gmail.com
or
Voicemail: 206-309-9389
While we welcome all feedback, we will be releasing Episode 6 in fairly short order, so any new feedback may not make it into this season.  Rest assured, Season Two is just a short while away now, and all feedback will be aired in due time.
So, a mock turtleneck… and a BLAZER?  Someone needs to fire that mohel…
Podcast: Play in new window | Download