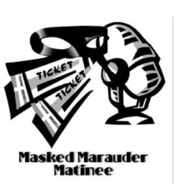 So, I've been so busy trying to get my MA and then MFA done that I've really slacked off in being part of the podcast community. I missed the early days of podcasting when people would jump on each other's shows and really get involved with promoting, listening, and commenting on each other's shows. Thankfully, Podcast Junkie (Megan), started a new Facebook group called Podcast Community to help recapture that feeling.
In honor of that I decided to start writing up some reviews of the various podcasts I've learned about through the community. These are going to be based on listening to the "latest" episode when I visit their website. Hopefully this helps spur some interest and helps readers find some new podcasts to join, comment on and enjoy. If you are a podcast listener make sure to hug your favorite podcaster (and by hug I mean leave a comment, review or email).
Podcast One Episode Review #2 –Masked Marauder Matinee
Episode Reviewed "Iron Horse and the Rescue in the Rails"
I really appreciate podcast fiction (after all my first podcast is podcast fan fiction), so I was happy that the next podcast in line to review was podcast fiction. It's what I call audio drama lite, it's a story read (this episode by the author himself) with some sound effects and music put behind the words.  Masked Marauder Matinee offers what they call "urban myths of mystery, adventure, and intrigue to captivate your mind."
Iron Horse, a very pulp like character, was very intriguing, but I was lost at the beginning since I hadn't read the shownotes first. I think a nice introduction of the concept of the story may have helped. Once I figured it out, I really enjoyed the story (lots of shooting, fighting). I think the strength of the story was the dialogue (not that there's a lot of it).
There were some very nice editing choices in this and some ones that kind of threw me off. I did love the atmospheric choices (bullets, etc), but some of the human sfx (like the yelling) was a bit out of nowhere. I think most of my qualms about it would have been assuaged if the sounds/music had started out at the beginning of the story.  I was also a bit confused because the episode just kind of cut off at the end.
I really enjoyed that the episodes were short (apparently there's a lot of cliffhangers in other episodes). Gives you enough of a taste of a story to really get into it, but also helps keep someone who can be as ADD as I am interested.
Iron Horse isn't the only story on the website/podcast. There's several other intriguing series that I can't wait to listen to, like Lady Raven. I also love that the stories are available in text form as well as the audio book versions.
All in all I give it a big thumbs up for concept and 3/4ths of a zombie thumb for execution.
Where to listen: 
iTunes: http://itunes.apple.com/us/podcast/the-masked-marauder-matinee/id535274487
Website: http://maskedmaraudermatinee.com/
Other recommendations:
Listening Order: Given the nature of the serialized story, I'd start with episode one and move forward.
Average Episode Length: about 10 minutes