In celebration of the finale of One Tree Hill tomorrow, Warner Brothers sent me some amazing props from the set of One Tree Hill!
I wasn't entirely sure what they were sending, so I was really happy when one of the props was "An Unkindness of Ravens" the fictional novel by y Lucas Scott (Chad Michael Murray's character).  It reminds me of how Lucas fictionalized the first two years of high school, how their was an unsuccessful movie based on the book, and how Peyton obsessively collected them (later burning them when she finds out that Lucas is engaged to his publisher, Lindsey).
I seem to have a library edition (there's call numbers on the side). Unfortunately, the book is a prop. The book inside the dust jacket is "The Tangled Mess." The actual book may never be published, but it's a nice memento from one of my favorite fictional writers. It would be nice if someone had written it (like Richard Castle's books are being published for Castle).
The other items included brought up so many memories. I loved having the picture for Brooke's fashion line "Clothes Over Bros." The success of the company leads to many of Brooke's growth points (like choosing cheer-leading over going to New York, realizing she's not ready for moving into a career in high school). Of course, it reminds me how she started the company to get over Lucas (I'm sensing a theme with my props now).
I also have some campaign stickers for Lucas' mother, Karen Roe, from her run for mayor against Dan in Season 3.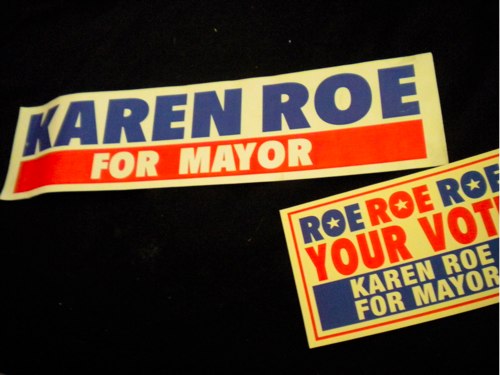 All in all it was a fun way to walk through the seasons of One Tree Hill and I can't wait to watch the season finale. Tune in TOMORROW at 8/7c on the CW.
Want to live some more memories? Check out One Tree Hill's website: http://www.cwtv.com/shows/one-tree-hill
I am promoting One Tree Hill on behalf of Warner Bros. WBWord division.