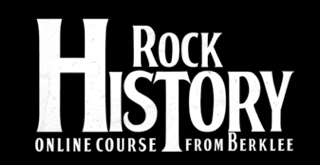 Now I took some classes in undergrad in music and they never seemed as awesome as this. Berklee School of Music has an online school is launching a class on Rock History, which threatens to put my theory class to shame.
The class is taught by Steve Morse. According to the press release Morse brings a lifetime of real-world experience to the material. Steve was the senior rock writer at the Boston Globe for over three decades, and has contributed to other top-tier press outlets such as Billboard and Rolling Stone. He has also served on the nominating committee of the Rock and Roll Hall of Fame. Steve has a rich background in Rock History, having interviewed and developed strong, decades-long ties with dozens of the most important artists and bands in rock, including the Rolling Stones (first seeing them in 1966), U2, Paul McCartney, Aerosmith, AC/DC, Bruce Springsteen, Bob Marley, Metallica, Joni Mitchell, Eric Clapton, Pearl Jam, Stevie Wonder, Coldplay, Tom Petty, and many more.
The really fun part of the online class? Students will see never-before-seen video interviews with rock legends like oe Perry of Aerosmith; Bob Weir of the Grateful Dead; Mike Mills of R.E.M.; Ernie Isley of the Isley Brothers; George Clinton of P-Funk; producer Jack Douglas (who has worked with Aerosmith, Patti Smith, and John Lennon); promoter Don Law; Amanda Palmer; Hugo Burnham of Gang of Four; and Duke Levine (who has played with the J. Geils Band and Aimee Mann).
The spring terms starts April 2nd, 2012 so register soon if you want to join!
To register, sign up at https://www.berkleemusic.com/openhouse-signup/
To learn more about the Rock History online course, visit: www.berkleemusic.com/rockhistory