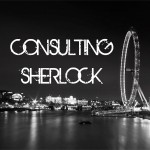 Join Tabz, Emma, Kim, Scott, and Heidi as they discuss the BBC series, Sherlock. Tabz and Emma have seen the series before, but Kim and Heidi haven't!
Episode Summary from Wikipedia:
Based on The Hound of the Baskervilles by Sir Arthur Conan Doyle, the episode investigates the strange activities at a military base.
Fellow IntroCasts: betweenthelinesstudios.com/introcasts
Theme Song: Sherlock By StudioMig and David Cyr (from Music Alley)
Artwork: London Eye by telegram (Stock.xchng)
Podcast: Play in new window | Download