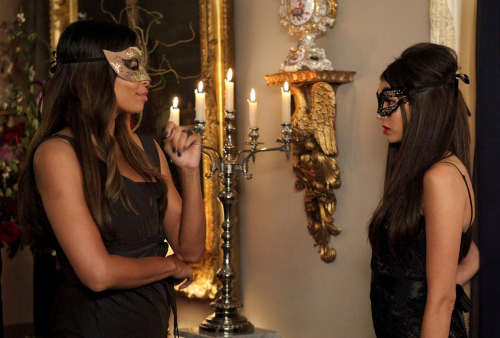 Special Features are something that makes or break any DVD set, especially for TV. The special features included add to the overall valube of a show that you may be able to get cheaper digitally. Recently I've been kind of disappointed by the lack of great features on DVDs that I've bought. Thankfully, The Vampire Diaries Season 2 DVDs have some really great features and is well worth buying the set for.
My favorite is "Her Own Worst Enemy…" which goes into explaining how they do split screen scenes (when one actor plays two characters in the same shot). Especially in Season 2 where in one episode Nina Dobrev has to play 12 pages of script Katherine and Elena just talking to each other. For Buffy fans it's kind of like Dopplegangland when Aly had to play four different characters.
There's also an amazingly fun "The Perfect Love Triangle…" that explains all of the romances on the show (with a fun little 'family tree' style chart) with actor/crew interviews explaining them. Then they try and explain Elena's family tree. It's freaking hilarious.
There's also a bunch of small features on the werewolves and their mythology, a fantastic gag reel, deleted/unaired scenes, and a commentary on the pivotal episode "Masquerade."
Check the fun features out for yourself and order your copy of The Vampire Diaries: The Complete Second Season on DVD/Blu-Ray here today: http://bit.ly/mkiZtx!
I have been hired by Warner Bros. WBWord division to promote The Vampire Diaries: The Complete Second Season on DVD/Blu-Ray.
Photo: Quantrell D. Colbert/The CW