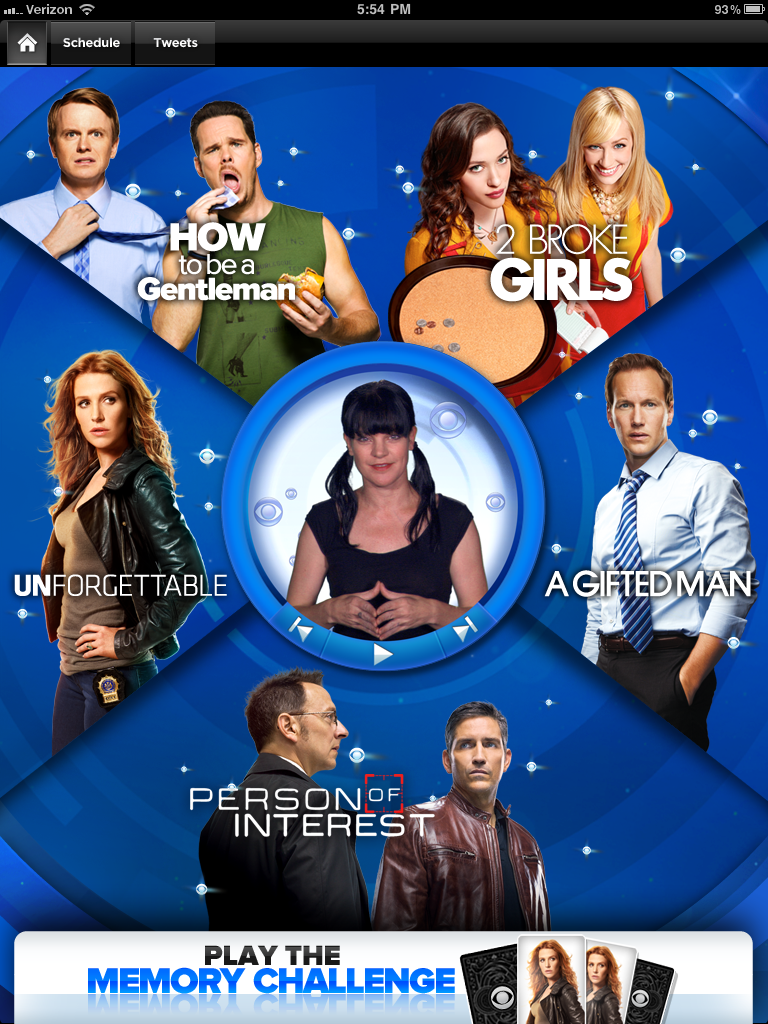 [Press Release] September 1, 2011: CBS, America's most watched network, has launched a free CBS Fall Preview iPad app, the first-of-its-kind, which gives iPad users a unique look at the Network's new fall drama series UNFORGETTABLE, PERSON OF INTEREST and A GIFTED MAN, as well as its new comedy series 2 BROKE GIRLS and HOW TO BE A GENTLEMAN.
This CBS Fall Preview app is now available here from the App Store or at http://www.itunes.com/appstore.
The CBS Fall Preview app's unique iPad experience includes the following features:
● In-depth Previews: Includes special previews and behind-the-scenes videos of the new CBS line-up, as well as exclusive photo galleries of the shows' casts.
● Unique, Integrated Video Elements: On the home screen, NCIS's Pauley Perrette introduces each new show, while offering fun anecdotes about the cast, characters and storylines.
● An "Unforgettable" Memory Challenge: Gives users a fun way to test out their memory while interacting with the new series. Users also have the chance to win a new 50-inch plasma TV.
● Social Media Integration: Social media posts from the official Twitter accounts for all CBS shows are integrated directly into the app.
● CBS Fall Schedule: Gives users a look at the complete lineup on CBS this season. Calendar integration enables users to easily add the Network's premiere and regular episode dates to their iPad calendar and share the information with friends online.
Fans without iPads can visit CBS.com for exclusive content, including videos, games, blogs and contests, for all of CBS's new and returning series.