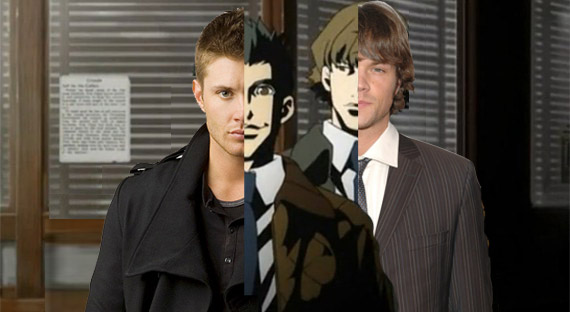 With the new Supernatural Anime series it's interesting to see Jared and Jensen in a whole new, animated look. The boys still have their voices, but with slightly different looks. Of course, it fits the storyline of Supernatural perfectly. The Winchester boys change their look to explore new cases all the time (though sometimes Dean doesn't fully get into the act).
Of course that's got me thinking about how I would change my own look in order to explore a new world. If you had the opportunity to reinvent yourself what would you do? Dye/cut/change your hairstyle? Your clothes? I've often wondered if, in the future, you could do all that with a tap of a button including changing your shape/size/etc. Kind of like SIMS or Second Life in real life.
Regardless of the change on the outside though, you're always left with the person inside and that's why I think people who are fans of the TV show are going to enjoy the anime version. At the end of the day, the Winchesters are still the Winchesters. They've got their family and they got their demons.
Check it out for yourself with this clip from the series:

Order your copy of Supernatural: The Anime Series on DVD or Blu-Ray here today: http://bit.ly/p0WOMq
I have been hired by Warner Bros. WBWord division to promote Supernatural: The Anime Series on DVD/Blu-Ray.