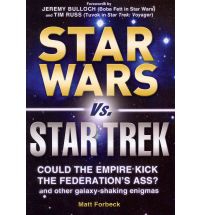 It's safe to say that I'm an uber geek girl. I cut my teeth on Star Trek and met Riker at my first Star Trek convention when I was like 8 years old. My dad watched the original Star Trek (ST:TOS as it's referred to by fans) when it first aired, but he also watched the Star Wars movies as they were released. Geekdom, it runs in my blood.
So when I got the chance to read and review Matt Forbeck's "Star Wars vs. Star Trek" I jumped at it. Long has there been a stalemate in which future franchise reigns supreme. Is it Star Trek with it's "wagon train to the stars," optimistic vibe of explorers and tusslers or Star Wars, with it's small flame of hope against an oppressive regime? Both are near to my heart, so I read the book with gusto.
If you're looking for a very serious, in-depth look at the cultural, political, social implications of two fictional world mega-franchises — this is not the book for you. And kudos to Matt for not making it another academic discussion. Instead Matt pits similar characters against each other based on their roles in a head to head combat that's heavily influenced by both stories. My favorite parts are the show downs themselves that are written in semi-fictional prose (want to see Obi Wan and Picard battle? It's here). Long time fans of both series will enjoy the depth of information and the (sometimes surprising) mashups. At the end of each meeting there's a decision – who wins? Sometimes clear, sometimes a draw, the characters themselves will determine the winning franchise at the end.
Great fun to read and it often had me giggling like crazy. I highly recommend Star Wars vs. Star Trek to any uber geeky fan who just needs to know who wins.
Buy it now on Amazon:  http://t.co/8ZLyWRF