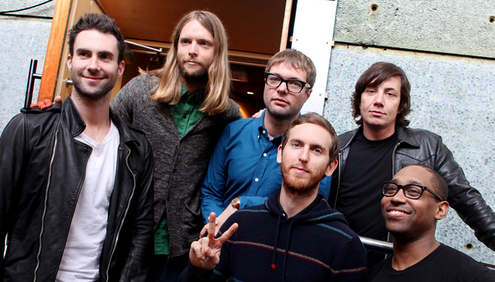 Last week music history was made as fans from 139 countries across the world tuned in to watch and inspire Maroon 5 as they wrote and recorded a brand new track in just 24hrs at the Coca-Cola Music 24hr Session.
Today, "Is Anybody Out There", the up-tempo track created at the session, is released for free download at www.cocacola.com/music. For the first 100,000 downloads, Coca-Cola will make a donation to support Replenish Africa Initiative (RAIN) in their work to provide access to safe drinking water  to communities in Africa.The band entered Metropolis studios in London at 5pm GMT on March 22 and worked around the clock to create the track using inspiration sent in by fans via the @Coca-Cola Twitter stream.
Over 350,000 views were logged on the live stream throughout the duration of the session as fans tuned in to watch the creative process unfold. Providing inspiration for the song, over 25,000 fans tweeted their thoughts and messages of support via @cocacola using #withMaroon5 to the band in the studio.
Commenting at the end of the 24hrs, Adam Levine of Maroon 5 said; "This has been an amazing and entirely unique experience. It was 24hrs of creativity, brought to you by Coca-Cola.  We'd like to thank all our fans for their Tweets of support, ideas and inspiration throughout a really productive and intense 24hrs."