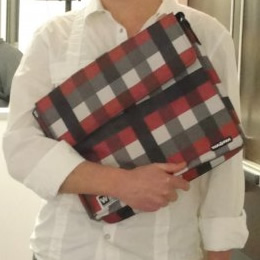 Everyone who knows me or has seen me around a convention knows that I am tied to my messenger bag. It's like my right arm. That's why I was so happy to find Yak Pak. They make extremely trendy totes, messanger bags and hand bags. They sent me the uber awesome DJ Bag to review.
I've been using it for months now and absolutely adore it. It's the perfect size for DJs who often get overloaded with carrying a ton of bags. It can easily fit a stack of LPs or records and there's a great front pocket for headphones. There's also two cellphone sized side pockets that can be used for smaller equipment (or a camera like I use it for) or cords that seem to get lost at the bottom of any bag!
I've taken this bag everywhere and I'm pretty hard on my bags, but even after a couple of months the bag looks fantastic. It's easy to clean and durable (most of my messanger bags need to be replaced after a couple of months). I get tons of compliments on it (especially from fashion-conscious teenagers).
It's also the perfect size for my iPad, which often gets lost in my larger messanger bags. But it can still fit my laptop nicely too.
With school just around the corner for most people you're going to want to check out http://yakpak.com/ and pick yourself up a bag or two.
(Photo from YakPak.com)