If you're like me you have a bit of a sweet tooth and absolutely nothing fills it like a fresh-baked treat straight out of the oven. Of course, who has time or energy to make cookies, cakes and brownies from scratch? That's where Betty Crocker steps in to the rescue. Today you can step into your local Safeway and buy any Betty Crocker SuperMosit Cake or Traditional Brownie Mix for the ridiculously low price of $0.69! So bake up something for you and your family.
Don't live near a Safeway? No worries. Betty Crocker has a fantastic site BakeSweetMemories.com with coupons, recipes and new items from Betty Crocker.
GIVEAWAY
Would you like to WIN a $25 Safeway Gift Card and a Betty Crocker Sweet Spring Treats Prize Pack to help make Spring more delicious and fun?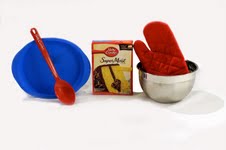 The Betty Crocker Sweet Spring Treats Prize Pack includes:
* A dishwasher, oven, freezer, microwave safe, silicon Baking Pan
* A Sturdy, Stainless Steel Mixing Bowl
* A Large, Red Oven Mitt
* A Betty Crocker Mixing Spoon
* A $25 Safeway* Gift Card to purchase Betty Crocker Baking Products or whatever your heart desires!
* Safeway also is Vons (primarily in Southern California), Dominick's Finer Foods (Chicago), Carr-Gottstein Foods (Alaska's largest retailer), Genuardi's Family Markets (eastern US), and Randall's Food Markets (Texas).
How to Enter
Main Entry: (you must complete this entry in order to participate, otherwise all other entries will be disqualified)
Visit BakeSweetMemories.Com's Recipes Section and come back here to leave a comment letting us know which recipe you can't wait to try out.
Extra Entries (please leave a seperate comment for each task you complete):
1. Tweet this:
Enter & win a $25 Grocery Gift Card & prize pack QuadrupleZ, Betty Crocker & Safeway: http://bit.ly/c1A6o5  #giveaway
2. Leave a comment on another QuadZ post (come back here and leave a comment to say you did so)
3. Subscribe to us (iTunes/RSS or via email): Subscribe to Quadruple Z by Email (leave a comment to say you did so or if you're already a subscriber)
4. Blog about this giveaway and leave us the link in the comments.
Rules:
Participants must be 18 years of age or older at the time of the drawing. US residents (or US shipping address) only. You must leave your email address in your comment or I will have to immediately choose a new winner. This giveaway will end on Friday, April 23, 2010 at midnight PST. Winner will be notified by email after conclusion of giveaway. Winner will have 72 hours to respond to my winner email or I reserve the right to choose an alternate winner. Any entries not adhering to the rules of entry or extra entries are not valid. Contest is open to all members of Between the Lines Studios and their families. Winner will be chosen at random with random.org.

Disclosure: I received a Sweet Spring Treats Prize Pack, VIP Coupon for a Betty Crocker Product, and a $25 Safeway Gift Card from Safeway and Betty Crocker through MyBlogSpark. One $25 Safeway Gift Card and Sweet Spring Treats Prize Pack (without VIP Coupon for Betty Crocker Product) is also being provided for me to giveaway to one lucky Save Your Money Mama Winner! The Prize will be sent directly to the winner by Safeway and Betty Crocker through MyBlogSpark.