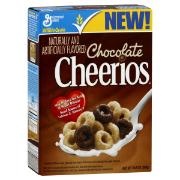 I've been a fan of Cheerios since I was two years old. And have been eating them ever since. While other cereals may flit through my pantry, cheerios are always here to stay. I've tried most of the reincarnations of my beloved o's (as I used to call them), but never much cared for the fruity-sugary-stepchildren of my favorite cereal. So it was with some mixed emotions I bought a box of the all-new chocolate Cheerios this week.
I shouldn't have worried though, I'm in love with Chocolate Cheerios.
They look a bit odd when you first pour them in the bowl. I think it was wise to do the multi-shaded colors because it makes it feel less like a bowl of dirt! They do seem to resemble small chocolate-glazed donuts!
First thing I really loved about it is the taste. It's not over-powering in it's chocolate-flavor. General Mills says it's made with real cocoa, which I think just makes this more delicious than some of the overly sweet and chocolaty cereals I've tried. There's also not that waxy after-taste I get with a lot of sugary cereals. Just delicious choco-goodness.
It's a bit higher calorie count wise than regular Cheerios (obviously), but I was surprised it wasn't more. There's 100 calories in 3/4ths of a cup of Chocolate Cheerios and 100 calories in 1 cup of Cheerios. Of course, the sugar difference is about 6 grams (3 grams in regular Cheerios and 9 grams in Chocolate Cheerios), but if you're looking for something a bit sweeter this can be a great substitute for something like Cocoa Puffs (110 calories for a 3/4 cup serving and 12 grams of sugar).
So, two spoons up from a life-long Cheerios lover. This one is a great twist on a classic.
Nutritional Information from www.myfitnesspal.com