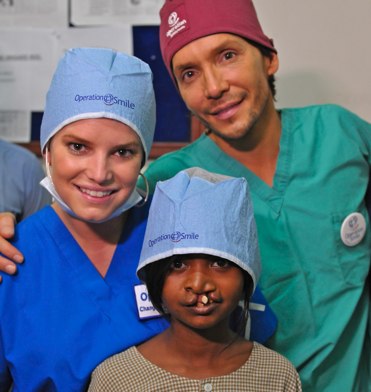 Every year 200,000 children are born with a severe cleft condition that leaves them unable to eat, speak, socialize or smile. Too often their parents can't afford the costly surgery to help their children out. That's where Operation Smile comes in. Operation Smile is an organization that provides surgeries for these children, giving them the chance to smile and lead a normal life.
Celebrity Jessica Simpson has been working with Operation Smile for seven years and in her new reality series "The Price of Beauty" she's taking a trip to India to meet Meena, a 13 year old girl who suffers from a cleft lip and cleft palate. The episode, which airs March 29 on VH1, will document Meena's journey as volunteers from Operation Smile perform an operation to correct Meena's condition.
How Can You Help
Operation Smile and VH1 are encouraging viewers to share their smiles during this season of "The Price of Beauty." As part of the Smiles for Smiles campaign, people are invited to upload photos of their own smiles, which will become part of a mosaic composite featuring photos from the show. For every photo uploaded VH1 will donate $1 to Operation Smile. Visit www.vh1smile.com to upload photos, check out other smile mosaics and donate to Operation Smile.
Want to Do More?
Visit www.operationsmile.org and read about the various ways to get involved and donate to the organization.
(Photo: Jessica Simpson, Meena and Ken Paves – Photo from Operation Smile)