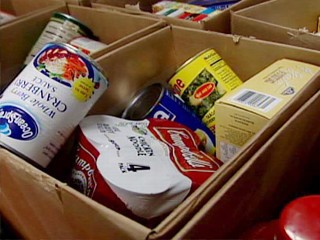 With the recent economic crisis, food donations to soup kitchens, shelters and food banks have been extremely low. So do something good this weekend and clean out your pantry! If you're like me there's some great food in the pantry that hasn't been touched for a couple months. So put all of it in a bag and drive it over to a local charity that can put it to good use! While you're there, clean up your pantry too! Great way to start out the new year!
Today's task: Clean out your pantry and give your extra food away!
Find your local food bank first and call them to see if they accept donations.
For example, my local food bank accepts: dry, shelf-stable, refrigerated and frozen food items; prepared foods; foodservice items; personal care and cleaning products; office supplies and equipment; mislabeled and unlabeled products; obsolete promotional items; and bulk and damaged products.
Search using these sites:
http://www.secondharvest.org/
http://www.efsp.unitedway.org/EFSP/wc.dll?EFSP~FundedStates
Time Commitment: Depending on your pantry from 20 min to 40 minutes. Make sure to give it a good sweep and wipe down when done!
Extra Credit for Little Effort:
Email friends/family and let them know about this!
Follow http://twitter.com/foodbankmetrodc (a food bank in Washington DC) to keep up to date on news and what you can do to help the hungry.
Extra Credit!
Donate some funds!
US – http://feedingamerica.org/ (Even $1 feeds a lot!)
UK – http://www.foodchain.org.uk/
Plant extra food in your garden and donate (check out http://ampleharvest.org/ to know where to donate fresh foods).
Volunteer at your local food bank! Call them up and ask how you can help.
[Please let us know if you know of some other great websites and resources!]