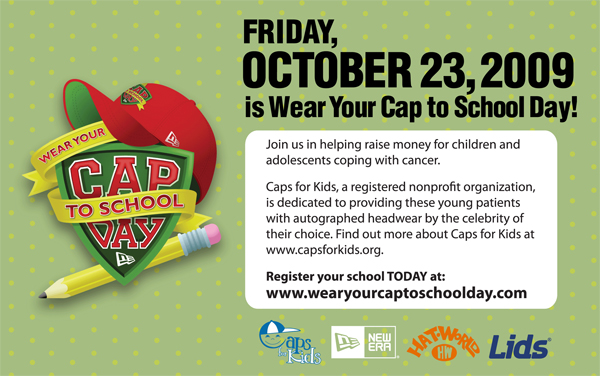 The non-profit organization Caps for Kids, along with national sponsors New Era Cap Co. and Hatworld/Lids, are proud to announce that the 6th Annual "Wear Your Cap to School Day" event will take place on October 23rd in schools across the United States. This fundraising initiative encourages students to donate $1.00 for the chance to wear their favorite cap in the classroom. All monies raised support Caps for Kids' mission of providing celebrity signed headwear and scarves to children being treated for cancer.
"Having cancer at any age is a traumatic experience but having it as a child is even more anguishing," says John DeWaal, Caps for Kids President. "Wear Your Cap To School Day is a great opportunity to illustrate to students that their small donation can have a big impact to kids in their community."
Interest in the program continues to spread across the US with schools in more than 38 states participating and over $340,000 raised to date to benefit Caps for Kids. In 2008 alone, more than $90,000 was generated, marking a record of growth for the organization.
For more information on Wear Your Cap to School Day visit www.wearyourcaptoschoolday.com and Caps for Kids visitwww.capsforkids.org.