Need even more of the Mad Men? Buy Mad Men on DVD and Blu-Ray
on Amazon.com!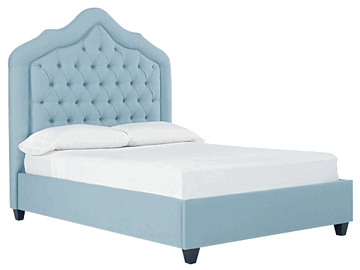 Tired of the boring old headboard (or lack of) that you have on your bed? When you watch Mad Men are you really staring at Draper's headboard and thinking, "man that would be great to lean against and read?" Then you, my friend, are in luck.
Now available at ClubFurniture.com is the Tufted Draper bed inspired by the hit TV show Mad Men. I personally would love a Inara style bed inspired by the cult-TV show Firefly, but this one is rather nice and retro.
To ease any uncertainties about purchasing furniture online, clubfurniture.com offers a 30-day in-home trial. If customers are not completely satisfied with their bed or any other piece of furniture, they can contact clubfurniture.com within that time frame to return the piece(s) and receive a refund. Purchasers also receive a full bed frame and workmanship warranty.
So, check it out, and buy one for yourself. Sorry the actual Don Draper is not included.