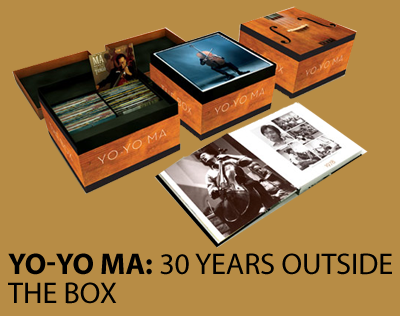 Source.
Sign up to get notified when Amazon carries Yo-Yo Ma: 30 Years Outside the Box
.
Craving some Yo-Yo Ma
now? Buy it on Amazon!

Comprising ninety discs, Yo-Yo Ma: 30 Years Outside the Box is a salute to Yo-Yo Ma's monumental musical achievements and to his 30-year legacy with Sony Masterworks. The exciting story of his life and work is eloquently told in a quality hard bound book of over 312 pages, lavishly illustrated with more than 150 color and black-and-white archival photos, original album artwork, liner notes and credits. Further enriching the story of this musical giant is a warm and insightful foreword by his longtime friend and esteemed fellow artist, pianist Emanuel Ax, as well as a lengthy, insightful essay by noted critic Richard Dyer. The set is scheduled for release on October 27, 2009.
Beginning with Ma's debut recording of Saint Saens's Carnival of the Animals, Yo-Yo Ma: 30 Years Outside the Box includes wide-ranging treasures, from his matchless performance of seminal cello works like the Dvorak Concerto to his tribute to film music maestro Ennio Morricone and last year's all-star, world music holiday celebration Songs of Joy and Peace, which found him in the company of such luminaries as Ren e Fleming, Chris Botti, Diana Krall and Dave Brubeck.
Alex Miller, General Manager of Sony Masterworks comments, "Sony Masterworks is honored to release this magnificent tribute to Yo-Yo Ma's incredible 30-year journey with the label. The ability to hear Yo-Yo's recorded legacy and to enjoy his exciting story in behind-the-scene reminiscences and personal photographs is a rich and rewarding experience. Every performance in his box set could be described as being both in the pocket and 'outside the box.' Each one confirms Yo-Yo's hope of finding, exploring and sharing joy and peace around the world."
Yo-Yo Ma's original catalogue of recordings (84 titles, including four two-disc sets) is included in this collection, as well as two bonus discs. Each of the discs in the set has been re-evaluated and remastered using Sony's Direct Stream Digital (DSD) system and SBM direct – an exhaustive effort that has brought the highest standard in audio playback to the entire catalogue. Grammy-winning producer Steven Epstein, who has produced most of Ma's recordings since 1987, oversaw the remastering, working with engineers Richard King and Todd Whitelock, both also Grammy winners for their work on Ma's recordings.
The first of the two bonus discs includes the first release in any format of John Williams's Suite from Memoirs of a Geisha for Cello and Orchestra, a six-movement work Williams created for Ma – drawn from his Oscar-nominated score for the 2005 film Memoirs of a Geisha – and recorded in 2008 with the cellist and the Chicago Symphony Orchestra.
The second bonus disc features the first CD release of Williams's "Air and Simple Gifts," written for Ma to perform with violinist Itzhak Perlman, pianist Gabriela Montero and clarinetist Anthony McGill at the inauguration of President Barack Obama. Also included on the disc are 11 tracks that have appeared only as exclusive bonus material on previous compilations of Ma's recordings or special releases.
Yo-Yo Ma is renowned for the depth and range of his music, from Bach to Early Music to Cole Porter to Appalachia and no less as the ardent champion of multiform contemporary composers. Among those who have created new works for him are his early mentor Leon Kirchner, John Corigliano, Tan Dun, Peter Lieberson, John Williams, Andre Previn, Edgar Meyer, Osvaldo Golijov and many more. Appalachia Waltz, his first album with Mark O'Connor and Edgar Meyer, became an instant crossover hit in 1996. John Williams has observed, "He is in possession of boundless gifts, and through his art, his exceptional intelligence and unique charisma, he is able to communicate more powerfully to the broadest and most diverse audiences around the world than perhaps any other instrumentalist in the history of music."
In relentless exploration of musical possibilities, Ma has garnered dozens of Grammy nominations, won 16 times and become one of the most acclaimed and beloved musicians of his time. Like Pavarotti, Callas, Bernstein and a very few others, this renaissance man is one of those rarest of artists whose profound musicality, high skills and personal charisma totally dissolve any barrier between he and the audience. It's no wonder that vocalist Alison Krauss admiringly opines, "When God made Yo-Yo Ma, He took the rest of the day off."
Always fine-tuning his ear, Ma's admiration and passion for different cultures is exemplified by the now decade-old and still evolving masterwork, The Silk Road Project. Named for the ancient trade routes between the Pacific and the Mediterranean that passed through regions of incompatible religions, languages, political systems and cultures, but regions that could communicate with each other through the arts — it's quintessential Ma. At 54, he remains boyishly enthusiastic and ever curious in pursuit of his goals of communicating and making connections. As noted music journalist Richard Dyer comments in the book's main essay, "When Yo-Yo Ma throws his head back, closes his eyes, and begins to play, he isn't shutting out reality… He is opening his heart and mind to new experiences and then sharing them with the rest of us."