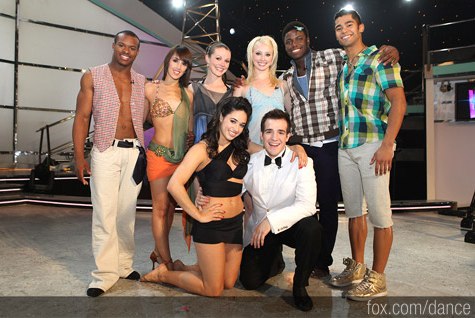 The night was kicked started by an out of this world group number choreographed by second season Alum, Travis Wall.
Janette & Evan – Jazz
For the first half of the dance I was simply stunned by Janette's cat-like grace. Then I realized that everything I was in awe of was really prompted by Evan – his partnering skills were spot on.
Kayla – Solo
Kayla has a queenly grace that is beautiful to watch.
Jeanine & Brandon – Waltz
This left my feeling oddly lacking. There was enough power, enough connection, enough… something.
Jason – Solo
There was speed and stillness, height and amazing use of floor, power and emotion. Just wonderful.
Melissa & Ade – Cha-Cha
The dream couple was reunited and were hot-hot-hot!
Janette – Solo
Oh my goodness. This solo was so moving, both in its emotion and its physicality.
Kayla & Jason – Broadway
This left me speechless. The style was spot on, the attitude was amazing, and the technique was just lovely.
Ade – Solo
And here I pull out the same compliant that I always have with Ade's solo's – they're just a string of tricks.
Janette & Evan – Rumba
Janette is the total package, Evan still has to brake through his quirky guy persona and really become a man.
Melissa – Solo
Oh how I love Melissa and how I love this solo. From the first développé penché to the last port de bras, it was just jaw dropping.
Jeanine & Brandon – Pop-Jazz
Wonderful synchronization, amazing power, and a sense of joy.
Evan – Solo
As much as I love Evan and his style, for this stage of the game it just isn't going to cut it any more.
Jeanine – Solo
The only thing I can say about this is "I want more!!!"
Melissa & Ade – Contemporary
It really was the little things that made this dance so moving: Ade's eyes as he moved away from Melissa, Melissa's hands as she stood still, the bravery to go so deeply into such an emotional place and lay it bare so other can witness. That is what this dance was about.
Brandon – Solo
Brandon has quietly snuck up the ranks and has become my favorite male dancer this season.
Kayla & Jason – Hip-Hop
Fun, sharp, and so fresh. My favorite of the night.
Naomi's Favorites:
Melissa & Ade – Contemporary
Melissa – Solo
Kayla & Jason – Hip-Hop
Naomi's Bottom Three:
Jeanine & Brandon – Waltz
Ade – Solo
Janette & Evan – Rumba
"So You Think You Can Dance" air Wednesday at 8:00pm and Thursday at 9:00pm on Fox.